Philip Axelrod
Philip is a healthcare technology professional, adjunct professor,
and entrepreneur. He has lived in Jacksonville for almost 4 years,
and enjoys playing ice hockey, tennis, and travel.

Nicole Brown
Nicole juggles her babies, a small business, philanthropy,
her checkbook and her life. She was last year's recipient
of the Ilene Sari Selevan Young Leadership Award.

Shylie Bannon
Shylie is an Israeli-American, obnoxious University of Florida fan,
and a civillitiGATOR! (see what happened there with the
obnoxious Florida fan pun?)

Dave Flagler
Dave is the Family Programming and Jewish Outreach Director
at the Jewish Community Alliance. He is an avid sports fan and
musician. When not playing guitar at religious schools and teaching
Bar/Bat Mitzvah lessons, he can be found cheering on the Patriots,
Jaguars, Gators, Red Sox, and Cubs.

 

Matt Flagler
Matt works for Brightway Insurance. He is a proud "double Gator"
with a BS in Marketing and a Masters in International Business
from the University of Florida. Matt also sits on the Finance
Committee Board for the Jewish Community Alliance.
During his free time, Matt performs and teaches  improv comedy.

Ariel Frechtman
Ariel, rGEN Director, a New Jersey native, relocated to Jax
by way of Atlanta. Originally from an executive retail
merchandising and management background, Ariel is the
(really, really, really) proud mom of an 8 year old, 8 pound
fur baby. Ariel is a lifetime member and National Officer of Sigma
Sigma Sigma National Sorority, where she volunteers her time to
facilitate leadership training for collegiate-level sorority leaders.
She is also an alumna member of the Order of Omega.

Leora Holzer
Leora works for the High Net Worth team at Fidelity Investments
and has an MBA from University of North Florida. Originally from
New Jersey, Leora has lived in Jacksonville since 2008 and is
married with two daughters.
Betsy Kozyniowski
Betsy and her husband moved a lot as kids but after moving here
8 years ago from Orlando, she is ready to call this their forever home.
She and her husband Eric have 2 girls, ages 5 and 1, who keep them 
very busy. Betsy previously participated as a Lean In facilitator for 
over 2 years at the Jewish Community Alliance. She was also a speaker 
at the Girls Day Out, WJCT event. 

Stefanie Levine
Stefanie grew up in Jacksonville at the Jacksonville Jewish Center
and is a graduate of the Martin J. Gottlieb Day School, Stanton
College Prep, and Washington University in St. Louis. She is an
employment coordinator at the University of North Florida and the
JAFTY (Jacksonville Area Federated Temple Youth) advisor
for The Temple.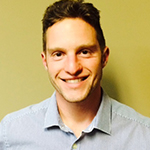 Alan Levinson
Alan, originally from Ft. Lauderdale, loves health, fitness and movies.
He works in real estate, helping retail sellers and buyers as well as
investors and has a passion for entrepreneurship!

Gabrielle Magid
Gabrielle is the Founder and Executive Director of Stronger Than
Stigma, Inc., and is dedicated to mental health advocacy for millennials.
She is a Jacksonville native and a fourth generation Jacksonville
Jewish Center member.

Ben Marsh
Ben is an all-star member of rGEN. He has developed amazing
friendships and has had many life-changing experiences while
traveling to Israel and helping our local community. He is a past
recipient of the Ilene Sari Selevan Young Leadership Award.

Daniel Miller
Daniel is in his fourth year as a member of the Jewish
Federation of Jacksonville's Board of Directors, and his
third year on its Executive Committee as rGEN Chair.
Daniel is a proud recipient of the Ilene Sari Selevan
Young Leadership Award, and has been a part of the rGEN
Steering Committee for the past seven years, playing an
integral role in its recent re-launch and rebranding. He
previously served as a member of the Jewish Community
Alliance Board of Directors and chaired both the Jewish
Federation of Jacksonville's Young Leadership Israel
committee and the Jacksonville World of Nations Israel exhibit.
Daniel is also on the Board of Trustees for Congregation Ahavath
Chesed for the second consecutive year and serves on the Board
of Directors for the Riverside Avondale Preservation.
Daniel is involved with the United Way of Northeast Florida, and
the Jacksonville Area Sexual Minority Youth Network. He was in
the 2010 class of the Community Foundation of Northeast Florida's
Philanthropic Initiative. In his professional life, Daniel is the owner of
Brightway Insurance's Riverside office. He and his wife Lior Spring
are proud parents of their son Jacob Miller.

Leah Palestrant
Leah, known to her Floridian city of Jacksonville as Princess Pleah,
is a former teacher turned non-profit leader by day and roller derby
skater by night. She currently works as the Learning and Development
Director with City Year Jacksonville. Leah is passionate about making
sure that all students in her beloved community receive an inspiring
education. She achieves this through the leadership development of
young people to serve as tutors and mentors in some of Northeast
Florida's most at-risk schools.
 

Josh Sachs
Josh is a Jacksonville native and a graduate of the University of Florida,
where he served as a student leader for the American Israel Public
Affairs Committee. He is married to Jen and is the father of a wonderful
18-month old boy.


Zachary Schwartz
Set on changing the world, Zach is working tirelessly to launch his latest
venture, IntoGo, a forthcoming app. In his spare time, Zach enjoys working
out, researching, playing with his dog and hanging out with friends.

Stephanie Seebol
Stephanie works at Morgan Stanley as a financial advisor. She lives in
San Marco and is a pescatarian.

Haley Trager
Haley is a licensed insurance agent who is passionate about volunteering
and travel. She is married to Jason and they have two adorable dogs,
Bravo and Zoila.

Erin Weintraub
Erin was born and raised in Jacksonville and recently moved back
with her husband Arlen. She is a lawyer and excited to be a part of the
leadership of this great group!
​​